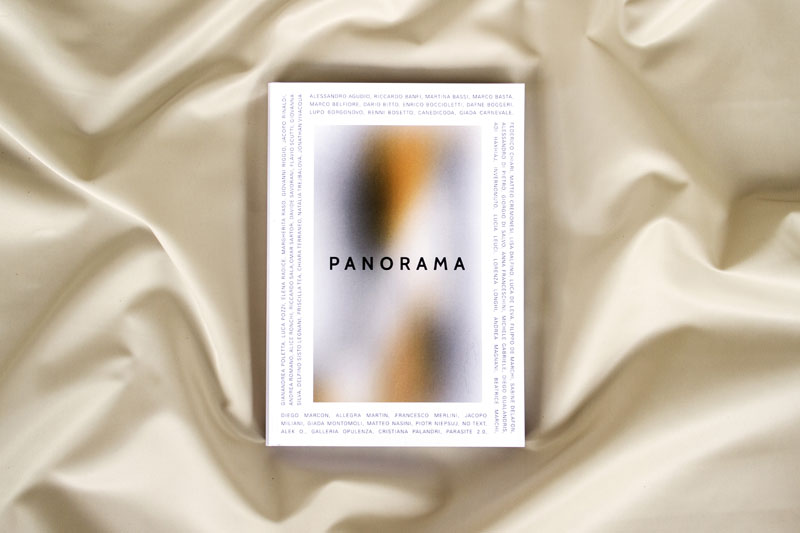 PANORAMA is an original anthology of 60 studio visits and dialogues with creatives based in Milan.
It describes some of the personalities who take an active part in its most recent cultural set, giving an holistic vision of the relational and working network they trace. It's just one of the reflections of Milan's contemporary dimension, one of the many glimpses on this situation. The project is proposing as a divulgative document: a spontaneous testimony, created in reaction to a common feeling condensed during 2015.
PANORAMA presents a series of interviews with: Alessandro Agudio, Riccardo Banfi, Martina Bassi, Marco Basta, Marco Belfiore, Dario Bitto, Enrico Boccioletti, Dafne Boggeri, Lupo Borgonovo, Benni Bosetto, Canedicoda, Giada Carnevale, Federico Chiari, Matteo Cremonesi, Lisa Dalfino, Luca De Leva, Filippo De Marchi, Sabine Delafon, Alessandro Di Pietro, Giorgio Di Salvo, Anna Franceschini, Michele Gabriele, Diego Gualandris, Adi Haxhiaj, Invernomuto, Lucia Leuci, Lorenza Longhi, Andrea Magnani, Beatrice Marchi, Diego Marcon, Allegra Martin, Francesco Merlini, Jacopo Miliani, Giada Montomoli, Matteo Nasini, Piotr Niepsuj, NO TEXT, Alek O., Galleria Opulenza, Cristiana Palandri, Parasite2.0, Gianandrea Poletta, Luca Pozzi, Elena Radice, Margherita Raso, Giovanni Riggio, Jacopo Rinaldi, Andrea Romano, Alice Ronchi, Riccardo Sala, Omar Sartor, Davide Savorani, Flavio Scutti, Giovanna Silva, Delfino Sisto Legnani, Priscilla Tea, Chiara Terraneo, Natália Trejbalová, Jonathan Vivacqua.

Curated by Zoe De Luca.
With the contribution of Mattia Capelletti and Ingrid Melano.
In collaboration with Giulio Fonseca, Iris Legge, Hazal Ilgım Çelik, Lorenza Novelli and Elena Radice.
Supported by Marsèll.
Edition of 400
23 x 16 cm
Softcover
Italian / English
256 pages